Sep. 6, 2007
We woke up later than usual this morning. It felt good to sleep in. We took our coffee, and cappuccinos (as the girls call their warm milk with flavored creamer) outside on the front porch to read and enjoy the crisp coolness of the morning. I feel fall in the air... just around the corner.
We always have a Bible story first thing in the morning and then they choose a selection of something else to read. We read out of an old book called "Best In Children's Books" published in 1938. We have several of these and they are delightful. Sage wanted to hear the story of William Tell again. Then they chose "The Man who Cooked Himself Breakfast". Sage always wants to know the lesson in a story... "What does this story teach you?" she will ask. She is inquisitive in this way.
After this quiet time of reading and chattering (which is something I thoroughly enjoy and little girls do so well!) we went inside and practiced the violin then went on to the Saxon math lesson and copywork for the day. Piper did some of her schoolwork - which she loves. I realize how fortunate I am to have little ones who enjoy their lessons!
I then sent an email to my wonderful husband thanking him for loving and supporting us - something I do not thank him enough for. I am trying to do better at this! Later we will be enjoying a trip into town.... maybe go to the mall before dance lessons. Our mall is quite small -- around 15 stores or so --- but they recently added a Panera Bread and I so enjoy their bagels! It has been a wonderful morning.
Hope you have a lovely day! Take time to enjoy life. Stop and smell the flowers...
The simplicity of wooden toys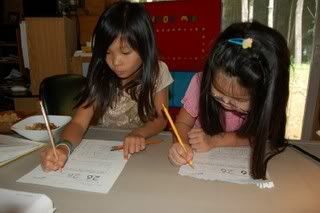 Sage 's orphanage mate Jenna stopped by to enjoy lessons with us. These two girls love math.
Playing a game of math they made up... their idea. What lucky parents!