We walked along cobblestone streets this week back to a time 200 years ago. Escaping persecution the Moravian community settled in Pennsylvania, Maryland , New Jersey and Winston-Salem NC. Old Salem has been painstakingly preserved. When you ease along the shady tree covered walks, stroll through the gardens and step into shops and taverns you experience the sensation of going back in time. This inviting village calls you in to rediscover the past and a simpler way of life as people in authentic dress from the 1800's greet you with "Welcome sisters". The girls were delighted as we were guided through an hour tour of accurately and stunningly preserved Early Southern Decorative Arts. Each section presented us with a collection of arranged rooms from the back country rural life in the early 1600's to the elaborate décor of early 1800's. Even more delightful to the girls was the Toy Museum and Children's Museum where they were invited to interactive play. It was truly delightful. We then strolled on to the Choir house where a sister entertained us with the Pipe Organ as we sat on long wooden benches blackened from age. As we ventured on we could smell the sweet aroma coming from Winkler's Bakery….. We could taste the fresh bread, ginger cookies, cakes and treats as we entered this bakery where the staff rises at the crack of dawn to begin their baking in original brick ovens.
An ambrosia to the soul -- especially if you love old things as I do. You really need more than a day to thoroughly take in and enjoy Old Salem. As I sit here munching on a snappy, scrumptious sugar cookie I hope you will enjoy our visit…
A young lady in her sun bonnet
Sisters
A Moravian sister weaving
Tobacco and Ginger cookies - The weaving Room
On the cobblestone streets of Old Salem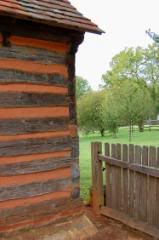 A curtsy. An old log barn with mud and pat chinking....you can almost smell the rich red clay.
A captivating old doll made from wood
How I wanted to take this chair home.... but, they said no.
Antique wrought iron pull and lock
Making ready for supper
A pioneer woman is always busy working around the fire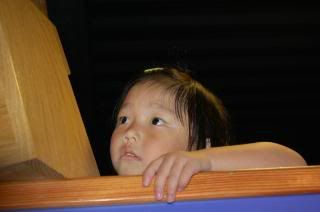 Pondering....
Lessons on a slate board with lead pencil
George Washington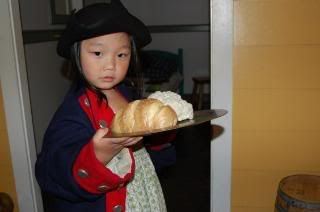 A delicious supper for mom.... served by George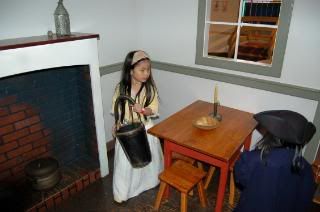 Setting the table
More supper for mom
The menu for this evening is Fresh Bread with fresh bread and water in tin cup.
Mixing herbs - a pioneer woman is always prepared!
An outing in her sun bonnet
No, I can't buy you this for Christmas
Old dolls for cuddling....
Play is fun around an old barn -- with a snake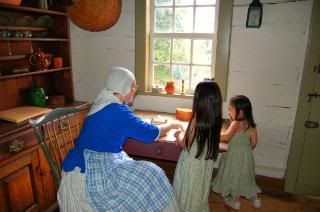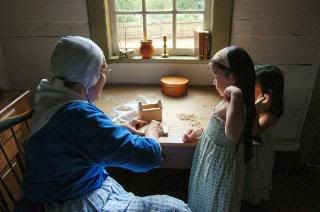 A Moravian sister shows the girls how to carve
A place for everything
A Moravian kitchen
We met the butcher, the baker.....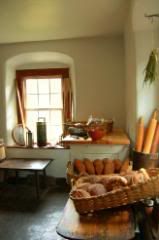 Fresh Bread made early in the morning before dawn...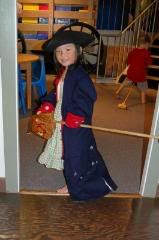 George Washington on his horse.... Did you know George Washington actually stayed here? Sage was thrilled!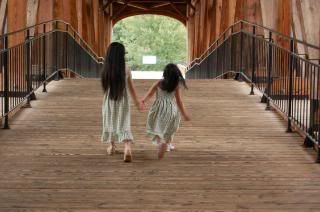 Leaving Old Salem....
Tuckered out...