Learn to do good.
Seek justice.
Help the oppressed.
Defend the cause of orphans. Isaiah 1:17

This is the story of our daughter Piper. It does not have a fairytale beginning and some of the feelings I experienced and express were not happy ones. She had an excruciatingly hard time. It is not my intention to scare or discourage anyone in the adoption of a child who is not an infant. Hers is not the norm in most cases. This has been an educational experience for me. One which showed me the power love. It is my hope that her story will touch the life of someone who is going or will go through the same experience and to realize there is a light at the end of the tunnel and God's love can come through us in many ways.... like through the love of a child who had none. I often wish I had known of someone who would have shared their tough experience. I think it is important that we hope for the best but prepare for the worse.
The Call
On November 5, 2004 Pam from CCAI called us and asked if we would like to look the file of a little girl. They had received a batch of SN referrals and there were a couple of children they had not expected. One of which was a little 13 month old named Wu Ling Wan from Wuhan, Hubei. She had been found in a basket in the front of a hospital wrapped in a pair of mens trousers and a quilt. Under her quilt was a jar containing 40 yuan (approx. $4. 60) and a note telling her birth time and date. She was over a month old.
We were neither expecting to adopt another child until the next year nor were we in the situation financially to adopt again as we were building a house and all our funds were tied up. I called our pediatrician and an ENT here in NC. The ENT gave me his explanation of her condition stating she could have other complicated syndromes and she would need to have a rib graft taken which meant cutting her chest open. Basically he scared me to death. I wanted to get one more opinion and left a message asking for a call back with a specialist in Chas. SC who was educated on this condition (unlike the ENT here.) My husband thought I had lost my mind to want to adopt again considering what was going on but kept looking at her picture and said "Let's go for it" I have the greatest husband in the world. However, I hadn't heard from the other surgeon and after much thought and prayer I felt like this condition was just too expensive for us to handle. I sadly called Pam and told her we would not be able to accept this little girl.
Just minutes after that call the surgeon from SC called me. He informed me that this condition was not terrible as I had been told and he would never let it stop him from adopting a child. He educated me on her condition and told me that she could opt for surgery when she was older or she could never have it as many choose and be fine! He also mentioned she did not appear to have any facial atrophy which can signify other problems. I then again received a call from Dr. Zimmerman our pediatrician and he told me Ling Wan appeared to be fine and her anemia wasn't bad. My heart surged! Was this the Lord telling us that indeed this was our daughter?! Oh my gosh, I had just turned her down!! I quickly got off the phone and called Pam.... but the office had already closed! I can't tell you what a long night that was. All I could think about was that she had already gone to someone else and prayed that God's will be done. I woke up the next morning and anxiously waited until 11:00 a.m. eastern time to call Pam at CCAI. With breathless anticipation I asked her if she had found a home for Wu Ling Wan yet. She told me she hadn't had time to contact anyone but would today and was sure she would able to find a home for her. I told her about the specialist who called me and asked if we could pleeease have her!
The next morning FED Ex arrived with all the paperwork and pictures of little Wu Ling Wan. I must admit, I was not head over heels in love with this little one yet like I was with our first daughter whom I had waited with great anticipation for 22 months. But I just felt led to bring her home.
It only took us three months to gather our paperwork, complete our homestudy and even receive our I171H. God was really in control. The funds were another matter and our dossier now sat at CCAI waiting for us to send the remainder of the second agency fee.... Unexpectedly, we received a check for the remainder of our balance from a wonderful woman who stated she wanted us to go get our daughter. I sat in the car in the parking lot of the post office and cried not believing the love of this friend. All she asked was that one day when we were able to pay it forward.
We received several updates on Wu Ling Wan including one on Jan. 10 with no picture but with a note stating we were in the match room. On Jan. 13th we received a picture of our little bruiser with a black eye and a puffy mouth. All I could think was what in the world happened to her and how she had grown - this little child I didn't even know, my daughter..... who looked like a boy. :) The report also said she had the personality of a boy. lol the foster mother commented that she hit, bit, pitched and scratched. (joy) She also said she loved being outside.
On June 13, 2005 we received additional updated pictures. I could not believe it! Our bruiser was smiling and looked like a beautiful little pixie! She was adorable. I called everyone and let them know how beautiful she was! I knew I had to go soon to get her and couldn't wait for TA. I was also worried to death about the funds as we had almost nothing. We had applied for a couple of grants but hadn't heard from any of them yet. Our house was nearing completion so we still were in a construction loan. I continued to pray.
Now we really needed to decide on a name. We had been calling her River for the longest time but I felt it was just too masculine. We decided (or rather I decided :) to call her Piper - which means flutist or bagpiper player. Since we were musicians and I was Scottish I felt this name fit. I would later realize that River would have fit her quite well. I would also realize my intuition of her having a difficult time adjusting and attaching to my husband first would be true. At the time I was the mother of four. But nothing I had read could prepare me for what was to come.
On July 31 we boarded a plane to go get our daughter Wan Wan who would become Piper Ling LuSong. She was now just days before her second birthday and because we received a large grant from China Care Foundation and CCAI this little one would soon be placed in our arms. We spent two days in Beijing and were able to take Sage on the Great Wall.
On August 4, 2006 Wan Wan was brought to us screaming bloody murder. They had just taken her from her foster mother - the only mother she had know and had been with since she was two months old. The woman in the picture is an orphanage worker.
Thus began our long and painful journey to help this grieving little girl, our daughter. Hugh saw her coming through the door and said "Oh Patricia, she is so cute!" Later I thought, He needs to get his eyes checked! She was put in my arms still screaming not knowing what in the world was going on. What are they doing? Where are they taking me?! Who in the world was this Amazonian woman with green eyes?! I can only imagine how terrified she must have been.
We signed a paper giving us permission to take her for a day and stating we would take care of her until she was formally adopted. Wan Wan continued to scream. She did so for our entire time in China and the next few months at home. It was like a death to her. The death of her mother, and life as she knew it. I admit that I was not sure of what we where doing and yes, would have preferred that happy little baby. But I decided at that moment that this was my daughter no matter what. I would learn to love her and do everything I could to help her through this terrible time in her life. God had given her to me. I prayed he would help me to fall madly in love with her and her with me one day. I knew until then He had enough love for both of us.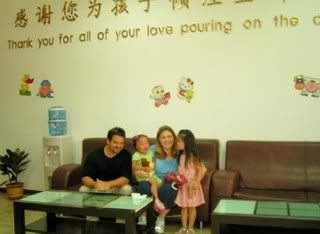 I carried Wan Wan back to the motel and we went into the room not knowing what to do next. Our agency had a pediatrician come in but Wan Wan was screaming to much to be examined. We knew she needed to grieve and that would take time. Finally, from exhaustion she fell asleep. When she woke up she again began crying and decided that daddy was best suited for her. From then on she latched on to him and would not let him go. He would become her safety net, her protector. She would not let go of him for even a second. When I looked at her or tried to speak to her (in Chinese) she would turn away. I wasn't allowed to do anything except wipe her nose. All privileges were given to daddy. Yep, I had become the nose wiper.... well, it could have been worse. :) I became the servant for daddy and Wan Wan constantly getting him or her what they needed. Poor sister Sage didn't know what to think but was a saint through the whole ordeal. Piper didn't like her either, I had a comrade.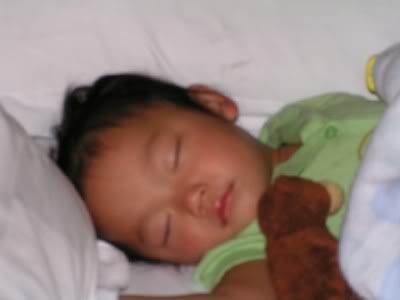 She forbade us to take her clothes or ill fitting shoes so I let her keep them on for two days. She had on stockings that had been cut off for socks and they kept slipping off but she was not about to lose them. She also held on to for life a little brown bear and a yellow Chinese tellie tubby phone. This was hers, her only security. The only link to her life. She would press and press the buttons just to listen to it. My heart was aching for her.
Hugh would sit on the bed with her and she would cry and pinch him or scratch him. We just kept talking to her softly while daddy kept rubbing her back or legs or arms. This picture was taken at around day four. You can see Piper pinching him still. She was very angry but felt he was the only thing to hang on to. What a sad little girl she was.
For three days Wan Wan wouldn't eat or drink and we knew she would have be taken to the hospital if she didn't take in something soon. Finally, that morning she decided she would eat some lantern fruit. This is a grape like tasting fruit with a soft covering... that has to be peeled. Guess who had to peel them? I peeled and peeled those suckers as fast as I could and she was shoving them in faster than I could peel them! We were just so ecstatic she was eating something. She then drank some swan nai (a liquidy type yogurt we were told she loved and had each morning. They had given us some along with her favorite foods. We were so relieved she was taking in something!! whew. Of course if you haven't eaten in three days and you finally do the results are usually not good. Sure enough, from the stress and lantern fruit she developed diarrhea. As with most Chinese children Wan Wan not even two yet was fully independent. She could dress herself & use the bathroom. The problem was she was so scared to talk! Bless her heart, she was so embarrassed when she had an accident all because we didn't know what she was telling us. She kept quietly saying "ooo ba ba". Even though I knew Wu ba ba meant #2 I just thought she was saying baba. It was my observant husband who finally realized she was saying ooo baba when she had to use the bathroom. Poor baby. She not only had big nose gui loa (white) parents , but they were stupid too.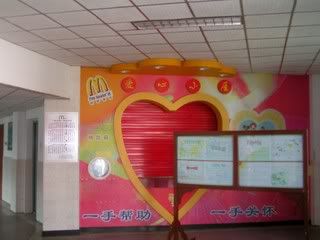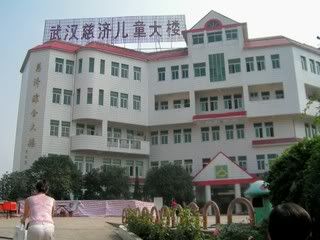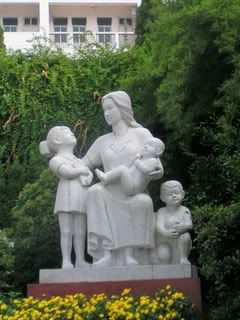 At our adoption interview the official asked us if we were happy with this child and were sure we wanted to adopt her. She looked questioningly at Wan Wan who was still screaming and then at us. I know she had to be thinking that we were not going to take this child. We told them we wanted her as our daughter and would love her forever. In my mind I was thinking "What in the world have I done" I now know I was mourning the loss of that dream adoption - like with Sage. In the van our kindhearted Sage became upset and asked "Aren't we going to keep Piper?" She had tears in her big dark brown eyes. She had heard the official ask if we wanted to keep Wan Wan and saw the look she gave. She thought we were going to give her back. God bless this beautiful child. We told her Piper was our daughter and her sister forever and we had told them we wanted her forever as a part of our family!
This is a picture of the happy family.... :)
Wan Wan continued to cry constantly until she was exhausted. She would wake up in the middle of the night calling "mama, mama?" Oh, how it broke my heart. I felt like I had kidnapped her! She didn't want to be here. She was happy with the only life she had ever known. I felt as if I had someone else's child. And I am sure she had these same feelings but in the eyes of a two year old.
Wuhan, Hubei is nicknamed the Three Hot Furnaces and for good reason... especially in August. I think God must have taken pity on us for a hurricane came in and brought with it nice winds to cool things down a bit. Hugh stayed in the hotel with Piper while I took a couple of tours so I could see her finding place, the police station and get to know the city she came from. We also got to visit the Wuhan CWI which was very nice and known as one of the model orphanages in China. It even has a McDonald's inside!
Hugh and his girls at the White Swan, Guangzhou, China August 2005
When our CCAI rep., seeing that Wan Wan was having so much trouble, asked if we would like to leave for Guangzhou a couple of days early we were excited. It wasn't doing Piper any good staying in Wuhan and we were ready to go on to Guangzhou. It was a bitter sweet moment.... when we got on that plane, ready to get out of there. I sadly thought "She will probably never see Hubei again, the place of her birith.
Piper still continued to cry most of the time. When it was time for her medical exam for the exit visa she screamed. It is so hatefully hot in Guangzhou in August and us cold weather mountain folk didn't fare too well. Wan Wan seemed to take it in stride and as long as she had something to drink she was o.k.
You should have seen this poor doctor trying to check her hearing or anything for that matter.... yep, I am quite sure he is now deaf. Our CCAI Guangzhou representative Jason was absolutely amazing and we left straight from the US Consulate for the airport. Did I mention our CCAI group was the first group at the new US Consulate in Guangzhou? I actually thought they did a great job getting us processed quickly. You wouldn't believe the check points.... wow. Very different from the old consulate location. Both Piper and Sage were great on the plane rides home ... and there were many. And by the way business class is the only way to go. We were so blessed that Lotus was having a special. I think God knew I just couldn't do coach.
Finally Home
Piper was very sullen and cried constantly when we got home. This went on for months. She did not like our house and screamed whenever we would return after going somewhere. One good thing, she was a great traveler!! She didn't even fuss the first time in a car seat!
Bedtime nightmare
Piper would begin crying uncontrollably when ever we went upstairs to go to bed. She was a very unhappy little girl. I tried to get her to cuddle or just lay in the bed with me but she would have nothing to do with it. She only laid in the bed if daddy was home. When he wasn't she would just lay on her little bed (which we put in our bedroom) and bury her head in the pillow crying gut wrenching sobs. It killed me to watch this. My stomach still hurts thinking about it. Her heart was broken to pieces. She was so confused and distraught! I would pick her up and she would start kicking and screaming even more. I would take her and lay her in the bed and she would quickly crawl out. Hind site, I would have forced her to lay with me-- She was crying anyways. Later she finally did climb in bed with me and Sage but it took almost two months.
Shaking
I first noticed in China that Piper's hands would shake. Like when you see an elderly person whose hands shake. I didn't know what to think of it at first and thought she may have some underlying problem. She continued to do this and when I handed her something her hands would shake to the point where she would drop or spill some things. I also observed she was very clumsy constantly falling down, hitting her head on something etc. Just a few weeks after we were home she fell off a step. I picked her up quickly feeling her all over to figure out if anything was broken. She was screaming and couldn't communicate. Then I felt her jaw swelling quickly. I rushed her to the emergency room. Gosh, I was so upset. My poor little girl didn't deserve this! Luckily, it was not broken... I figured out on the way there if she was crying it probably wasn't broken. We had her checked over anyways and she was fine except for a huge swollen, bruised jaw. Now after a year, she doesn't shake anymore. I can only relate it to the trauma she experienced when she was adopted.
Aggressiveness
Piper was still very aggressive. She would give these terrible 'I'm gonna kill you' looks. I'm sorry but that is the only way to describe them. I think it was her way of protecting herself and keeping her defenses up. It was actually quite scary. Poor Sage didn't know what to think. After a while I decided to respond with soft, gentle looks and tell her I love her. After 7 months her looks had softened and she was a different child.
Hoarding food
Piper had begun to hoard food. She constantly wanted food or swan nia ( the liquidy yogurt) She wouldn't eat meat and really only liked bread items, noodles and rice and of course Cheerios. She wanted chips as well as any type of sodas but we did not let her have them. We did let her have the kind in china she was use to. They were called shrimp chips and boy did they smell like it! She loved them. Every time one of us would even go near the kitchen, she would jump up and start pointing wanting something to eat. Contrary to everyone's advice I fed her on demand - nutritious - o.k. half way, some what nutritious foods. When I realized she just didn't want to bond with me I told everyone that I was the only one to feed her or give her food. I can't tell you how much this helped. She would retrieve food from the garbage, floor or anywhere it could be found. Even out in stores. She also hid food. I would see her sticking it behind a pillow or underneath her bottom when I would come into a room. I would gently take it out and say "Here you go." "No one is ever going to take your food." She would just look at me like I had lost my mind. We had a kitten (which she was deathly scared of). One morning I put some kitty food in the kitty's dish then walk into the den. I heard this screaming noise and turned around to see Piper leaning over the cat and trying to pull it away from the food. The cat was fighting just as hard and I can't believe it didn't scratch or bite her. Piper was shaking and yelling. She thought it was her food. this was not the only encounter with this we had. From then on I fed the cat outside but I did catch Piper eating it on the porch. Well, I've heard it's high in protein. At meal times she would steal Sage's food. Sage being the tender heart she is would break out in sobs. I would share my food with her but never take hers. She does still obsess over food at times, not wanting to leave it, wanting it more often than she actually needs it. But nothing like her first 7 months.
No Boundaries
I noticed there were no boundaries for Piper. She would have put her hand right in the fireplace if I was careful. Nothing was off limits to her. It was like she couldn't control herself. I would tell her not to touch something and she would continue to reach her hand out to it. Gradually I noticed she would begin reaching for a no no object and then hesitate as if she was not sure if she should touch it or not. Sometimes her hand would win out and she would other times she would be successful in controlling her urges. We went through several lessons on snatching. She could never just take something from you or give something to you. It was always aggressively snatched or thrown. One day I went to give her a toy and she snatched it from me giving me one of her dirty looks. I gently took it back and smiled then handed it back to her. She again snatched it. I gently took it back and smiled handing it back to her. We went through this several times before I finally say a light go off. Her face had this questioning look on it and she took the toy from me more slowly. I then realized she was only doing what she knew. She had no idea you didn't snatch things. We went though many lessons like this. Simple things we take for granted that she did have and was never taught. I've never had to fight for food or shove it in before someone else took it. She did. I've never had to fight for a toy or a meal but she has. God bless this little child. God help this little child. Now after a year she doesn't need to snatch things and never does. What a joy she has become. What a happy little one she is!!
Bonding with mommy
When daddy finally had to go back to work after that first week,it was very hard on her. He would return from traveling after a week and she would just fall into his arms sobbing. It was really hard to watch. She was devastated. it did however cause her to bond with me. I realized that having some sort a schedule helped her feel secure. Now, this was not an easy task for Sage and I as we are not scheduled people. Were gypsies! :) Every evening at bedtime we would go upstairs for a bath and reading time. She would cry and cry. I just let her watch Sage and I hoping she would finally want to join in. No matter what I tried to do with her she would scream so this is the way I decided to handle it. She would see us in the bath and just watch. I would always try to get her to join us. She could see what fun it was but was so strong willed she wasn't about to let us know. Finally after a couple of months she let me put her in the tub. Now after a year she absolutely loves this time. ;)
Whose your daddy?
At placement at even after we were home we noticed Piper would freely go to most men. (Not women) No, I do not feel she was sexually abused. She has never shown any signs and physically is fine. Even after months at home she would leave me with no reaction. I would leave the house and I swear she would almost smile! Now if daddy left it was terrible and she was inconsolable. The bad thing is she would do this to strange men also. One time that really broke my heart was after 6 months a cable guy came out to fix a problem we had. She really took to this guy (who had no interest in children whatsoever) He finally picked her up before he left and she pointed to the door. He said "You wanna go with me?" She shook her head yes and he headed for the door. I said "Piper, you don't want to go with him. He not your daddy." She shook her head yes. He put her down and proceeded to try and leave. She tried to block the door and cried when he left. I was really shocked because I felt she had grown past this stage. I could see we still had more work. Now after a year she will not do this and knows mommy loves her. whew... this one was hard.
Confidence
I'll never forget the first time I told Piper she was pretty (and she understood what I was saying). One of her brothers and I were admiring how pretty she looked in a dress. She looked down and blushed. It was precious and sad at the same time. Had no one ever told her she was pretty? I honestly don't believe they had. I made it a point to tell her often. Now after a year she smiles and still blushes then says "No I not." One day I know she will be a glowing confident little girl and I will do everything I can to make sure of it!
Hope and Reflection
It took three months to see even some sign of hope and seven months for her to settle in... not completely but where she was comfortable. After a year she is an amazing, smiling, vibrant, joyful little three year old. She is learning and realizing that life can be happy! She is very ticklish and has the greatest giggle in the world! I could listen to it all day. Did I mention she is amazing? We are still working together on some things. You still can't joke her- ever, and she still has her moments. But she has come so far. She cuddles with me and loves to read books. I can honestly say after over a year that I am blessed to have this little one. God must think a lot of me to have given her to me for my daughter. I am in now way an expert --even after five children-- ;) and made many mistakes. I also have not listed every single problem Piper and us had. I hope this helps someone who is having a difficult time. I hope her story shows that there is hope! And with love and determination your sad, troubled child can become a happy, loving little one. I can honestly say that I love my little Pipe. Thank you Lord.
Is this child amazing or what?!
Oh, I am her favorite now. And I love her dearly...